ZARABIS P-LITTER
The mother of the Zarabis P-litter is Ru Ch RKFW-09 DVM-10 Zarabis Najat "Loulou".
There were 7 puppies born the (10th and) 11th of January 2012.

1. 23.30, black&fawn, bitch, 415 g, Zarabis Poorva, living in Norway
2. 00.35, tricolour, bitch, 430 g, Zarabis Parveen, living in Slovenia
3. 02.40, red sable, bitch, 460 g, Zarabis Pratiti, co-owned, living in Maalahti
4. 03.10, red sable, bitch, 440 g, Zarabis Pallavi, living in Sweden
5. 04.00, fawn, black fringes, male, 530 g, Zarabis Parvat, living in Järvenpää
6. 04.15, black&tan, male, 417 g, Zarabis Paraz, living in Kirkkonummi
7. 05.30, red sable, bitch, 430 g, Zarabis Payal, living in Turku
Puppies the 26th of Feb 2012
Pratiti and Pallavi have the deep red colour of their mother. These girls were so similar that it was almost impossible to know which one of the girls you had in front of you. The first puppy to open her eyes was Poorva. Parveen is living in Slovenia with the cousin Bella of mother Loulou. Pallavi moved to her father Rahim. Pratiti is living with the cousin Bambi of mother Loulou and will hopefully sometimes be the mother of a Zarabis litter.

Photo December 2009, Greysal.
Loulou was co-owned by us and is now owned by Raija Käyhkö and lives in Kuusankoski together with Zarabis Omid "Ida", daughter of Loulou's half-sister Alice.
Photo May 2009 Minna Pikkarainen.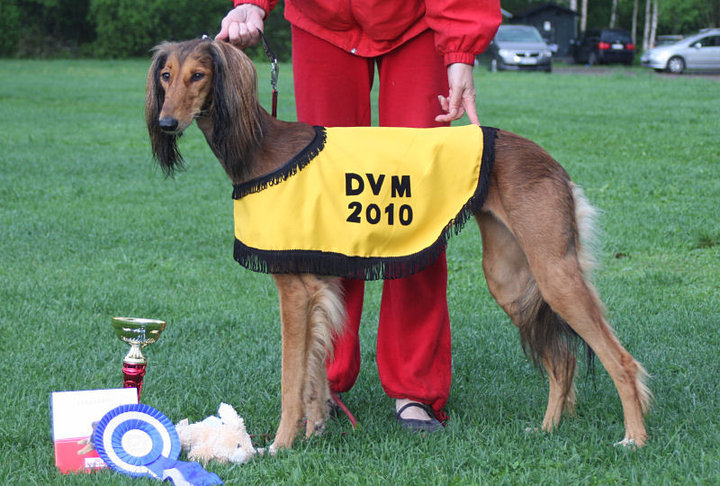 Year 2009 Loulou's position at the lure coursing TOP-list of 147 salukis in Finland was 9th. In the spring 2010 Loulou became the lure coursing Derby winner (DVM-10). Loulou has also the racing license.
The father of Loulou's litter is Barakisch Rahim Behzad.
Rahim is owned by Cathrin Nilsson in Sweden.
Rahim became the father of Sa'd al-Nashirah's B-litter of 9 puppies in Germany the 31st of July 2011. See the litter.
Rahim is from the Swedish kennel Barakisch, active saluki breeders for more than 40 years. Barakisch breeding started from one of the mothers of Swedish salukis, Sedeki Tasi. In the late 50'ies Sedekis had influence from the famous English Kumasi salukis originally imported from Iraq. After all these years Rahim still has left 8,5% of the Kumasi blood heritage. Sedeki has had impact on the Barakisch breeding in several ways also later on. Rahim's grandmother is Sedeki Id, with a grandmother imported from Saudi-Arabia to England. Rahim's father is from Belgium from the kennel Har Kala Rachi that has been breeding salukis since the year 1979. Copyright for the photo of Rahim below has Thomas Jaenson.

Barakisch Rahim Behzad

C.I.B. Bel Lux Ch Zahedan Har Kala Rachi

Vashar Har Kala Rachi

C.I.B. Bel Ch Qfudjayra Har Kala Rachi

Barakisch Oldooz Yalda

Se Ch Barakisch Jahtalab Letafat

Sedeki Id

Ru Ch RKFW-09 DVM-10 Zarabis Najat

FI Ch Tasia Eminence

GB Ch Timaru Valkyrie of Jazirat

GB Ch Altaya Tasmayah at Tasia

Zarabis Miriam

Nord Dk Ch Yebelli's Emir

FI Se Ch Asarafi Hierbabuena
The litter of Rahim and Loulou has a low inbreeding-%. Within 6 generations the inbreeding is 0 % and within 10 generations only 1,81%. The first common ancestor Zohari Azim-Dar-Yahan is found at the 7th generation. On the level of 10th generation we will still find 298 different known ancestors, and 36 unknown foundation salukis, out of 1024 possible. Among these different ancestors you will find as the main contributors Asphodel Arabis, Arabis' siblings and parents 81 times, Kumasi or direct Kumasi offspring 75 times and Bedouin Caliph and Caliph's parents 42 times. In the whole pedigree the number of known foundation salukis traced back to the countries of origin is as many as 50.
The incidence of Rahim's DLA haplotype 1 is 2,2% and haplotype 2 is 3,6% among salukis that has examined in Finland. The incidence of Loulou's haploype 1 is 11,1% and haplotype 2 is 8,8%.. The most common saluki haplotype in Finland represents 69,5% of the population. The frequences represent the situation in the end of year 2011. The puppies have a combination of the either haplotype of their parents.
The hearts of Rahim and Loulou have been tested with ultrasound and they are in a full condition. Staying still Loulou's heart is beating calmly only 60 times/minute. Also Loulou's eyes have been tested fully free from inherited defects.
You will find an example of a puppy temperament testing procedure as follows.
Loulou and Rahim the 19th of February 2011 in Stockholm in Sweden - more photos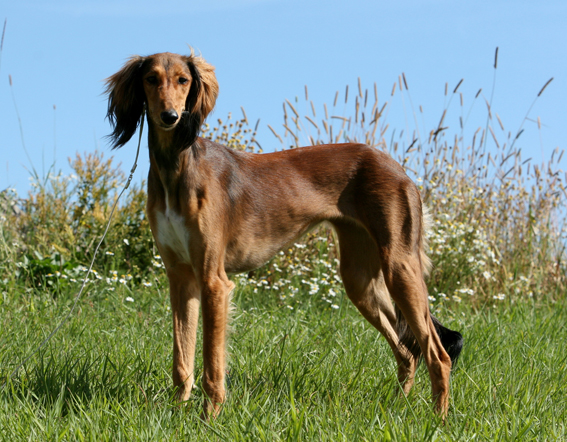 Left photo, Loulou at an age of 10½ months August 2008, photo Minna Pikkarainen, photo to the right at an age of 1 year and 8 months June 2009, Antti Ruotsalo
Photos below, Loulou at an age of 2 years and 9 months, photos Niina Käyhkö