Zarabis Miriam


Millie was born the 3rd of January, 2003 and died for old age the 30th of September 2017.
Inbreeding - %: 8 generations 3,3% and 16 generations 14,8%
Father line leads to Arabic Walad el Kharram (Samoems) and mother line leads to Hosha el Bahrein (Sheba Mazuri)
Breeder and owner: kennel Zarabis, Ritva and Jari Latva-Rasku.
Millie is a devoted and very obedient saluki, and was a good respecting companion for our late Roosa. Millie was opposing at dog shows, but she has anyhow gained three reserve certificates.
Millie has been maybe the fastest runner of our salukis, but was not able to gain her racing license. There was a plan to let Millie to try lure coursing before it was no longer allowed because of the age. Many years have passed after that opportunity. Millie is still running around the astonished youngster. It is not anymore the speed, but cleverness, that makes the younger ones surprised.
My Dog DNA
Genetic Diversity (situation the 18th of Aug 2015)
Zarabis Miriam 32.9%
Saluki 35.9%
(> 30 tested dogs)
General Health Index 100
CHAMPION TITLES AND CERTIFICATES
Millie has never attended racing or lure coursing.
Millie has been awarded 3 reserve certificates from dog shows.
DOG SHOWS
Millie has attended 25 dog shows in Finland. The judgement has been 16 times excellent. Year 2014 it has gone 8 years since Millie has been on a dog show.
OTHER SOURCES
More results will be found at the homepages of the Finnish Saluki Club (Suomen Salukikerho) at http://www.saluki.fi/tuloksia_e.html and at the homepage of the Finnish Kennel Club (Suomen Kennelliitto) http://jalostus.kennelliitto.fi/frmEtusivu.aspx
Zarabis Miriam Febryary 2014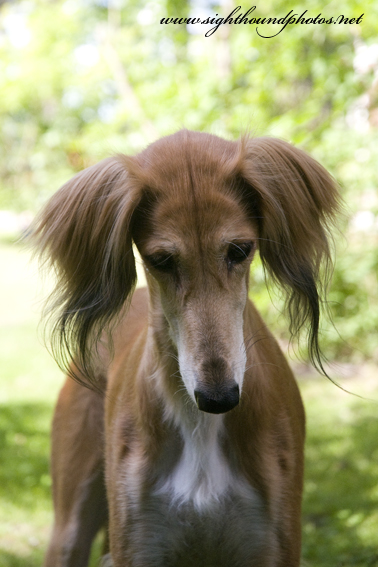 Zarabis Miriam - photos